Located in the Heart of Saint Paul's Original Seven Corners Neighborhood
Built in 1888, this charming building housed an eclectic array of sometimes questionable establishments before becoming, in 1982, one of our Saintly City's favorite haunts - Patrick McGovern's Pub.
Located in the heart of Saint Paul's original Seven Corners neighborhood, this Victorian Romanesque structure listed on the Historic Register was originally known as the Smith Building, so-named for the prominent lawyer, financier and one-time mayor who razed his home to build it. Along the way, watering holes of one nature or another came to occupy its street-level, corner-most section, last home to the long-time Brass Rail.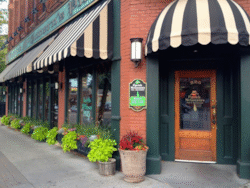 When Pat first bought the old saloon, the place was little more than a worn-out, oftentimes rough, dive bar in an area with a reputation at that time for being much the same. Sledgehammer in hand, Pat knocked open a passageway to what is now the middle room to make way for a restaurant, jazzed up the decor and cleaned up the joint. When the doors opened in August 1982, the now famed Hot Turkey Sandwich was on the menu.
A tow of school day cronies, hospital workers and downtown businessmen ventured in and quickly became regulars. The little pub got its first taste of a big crowd weeks later, when a Diana Ross concert at the old Civic Center brought in throngs of fans--hungry, thirsty and looking for fun. Pat and crew scrambled, but accommodated. With a warm, genial vibe that remains today, McGovern's soon established itself as purveyor of "good spirits." Word spread and the pub grew.
In 1989, an antique shop operating in the third section of the building moved to new quarters down the block and more bricks went down to open up the back room. Further renovations came way in 1996 - this time down under, where two lower level rooms now house a bar and dining area. September 2000 marked the largest square footage burst when McGovern's went Upstairs and opened its popular second-story sports bar area weeks before the Minnesota Wild's first puck hit the ice.
McGovern's took it outdoors in Summer 2005 with the debut of one of the Twin Cities finest patios. This beautifully landscaped, three-tiered award-winning enclave, complete with bar, fireplace and waterfall, is a hubbub of activity. In Spring 2010, an extension into the building next door brought an adjoining Patio Room, a lovely space with a French door entrance, local artist mural and even another bar. Pat topped things off (literally!) in March 2012 and installed a state-of-the-art retractable roof over the patio that, with a simple push of a button, has patrons covered in every sort of Minnesota weather.
The footprint has changed, but the Spirit that is McGovern's is embedded in the hearts of the many who have stumbled upon its path. Sons, daughters and grandchildren of the pub's early patrons recount tales, share memories and revel in creating stories that one day, too, will pass on. The tradition continues.
Cheers!