Patio Room
40-60 guests
French doors off the main deck of our outdoor Patio lead to this charming space with hi-top tables and stools.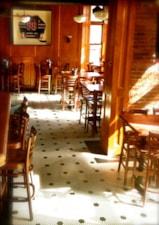 Upstairs
75-125 guests
The Upstairs Main Bar Area has hi-top tables with stools. Combining the Main Bar Area, Oak Room, and Chestnut
Room, this entire space can accommdate up to 125 guests.

Chestnut Room
40-50 guests
Located Upstairs, this room overlooks
Chestnut Street with hi-top tables and backed stools.


Oak Room
40-60 guests
Located Upstairs, this oak-paneled room overlooks west 7th Street with hi-top tables and stools. The Oak Room can be booked alone or with the Main Bar area to accommodate larger groups